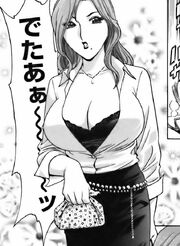 Asuza Suzumiya
is a character in Mo-Retsu! Boing Sensei.
Biography
Edit
Asuza is the president of Kozue's porn company and a former porn star. Asuza started working in porn at 19 and retired 6 years ago. She came out of retirement after seeing Takeshi Kono's performance with Kozue. She has a strong interest in Kono and is close friends with Kozue even helping her when she feels down.
Relationships
Edit
Maki Morishita
Edit
She is Maki Morishita's aunt. She cares about her neice but wants to keep the fact that she does porn a secret from her. However, she was able to figure it out easily.
Takeshi Kono
Edit
Her films were very well loved by Takeshi when he studied in college. She gained the urge to return to doing porn videos after watching Takeshi and Kozue have sex. She seems very satisfied with his sexual prowess.
Being the company president, she is Kozue's boss but they are on very friendly terms.